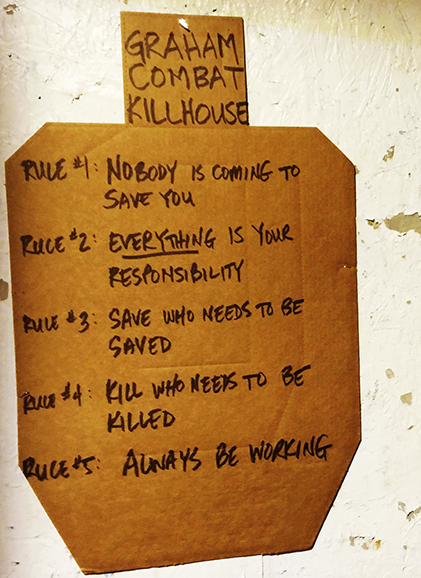 In December of 2017, I had the pleasure of going through Matt Graham's "Killhouse" course in Virginia. I was joined by two friends (Clark S. and Cy N.) that have done extensive training with me, and we had high expectations for this course for the months leading up to it. We arrived on a Thursday in preparation for the three day course that would run from Friday through Sunday.
Per the Graham Combat website, the course description is as follows:
The Graham Combat Killhouse is a comprehensive 3-day class designed to give you the fundamentals of defensive shooting, movement, and tactics within a structure. We spend the bulk of our lives in and around buildings – rooms, hallways, stairs, interior spaces and exterior spaces – and we need to be able to defend ourselves effectively, regardless of the environment.

This 30 hour course combines flat-range firearms fundamentals, live-fire engagements, and force-on-force validation. You will spend Day One refining your combat shooting skills through intensive and focused instruction. Days Two and Three take place in the Killhouse, learning the fundamentals of engagements within spaces. Additional time will be spent introducing, practicing, and then refining low-light and no-light principles within the same space. This course culminates with multiple force-on-force validations within the Killhouse – bring what you think you believe and put it to work.
Day 1: Weapon Manipulation
We met at the prescribed location a few minutes early and got checked in. We spent a few minutes meeting/greeting other participants who had come from all over the United States. There were representatives from Georgia, Massachusetts, Maryland, California, and several other locations present- and we enjoyed hearing about everyone's journey into town.
We were joined by Matt, and he began with a safety and medical briefing and an outline of the of the course contents. He also went through an explanation of the locations and facilities that we would use for the different portions of the course, and then rolled right into the course content.