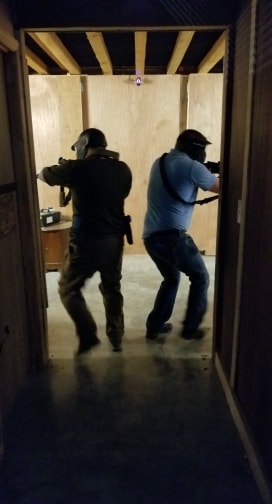 On a warm August weekend, a few weeks after completing his Active Killer Resolution course, I once again joined Chase Jenkins of Talon Defense in Calera, AL for some training. This time, I loaded up with Cy N. and we flew to Calera to cut down on travel time. This course was to focus on the movement and tactics between partners within a structure in a CQB environment.
Per the website, the course description is as follows:
Course will focus on working as a two man team during weapons manipulations, communication and movement. Teams will work in close proximity to each other during live fire range drills while incorporating safe tactics. Teams will learn to communicate efficiently, move safely and tactically and shoot effectively together. The course incorporates live fire range drills and force on force scenarios.
Day 1: Flat Range
The first day started out as one would expect with Chase- a safety briefing, medical plan, and outline for the training course. This course had 6 people in it, 5 of whom have trained with Chase in multiple classes. The exception was Cy, who had not previously trained with Chase, but has trained extensively with me and has taken similar courses such as the Killhouse course from Matt Graham. Because of the smaller roster which consisted of very competent shooters, Chase spent a little less time on his safety briefing than he usually does simply because we had all heard it numerous times. Note that this is not to infer that he omitted the safety briefing, as he thoroughly emphasized the importance of finger and muzzle discipline for a course where we would inevitably be working guns very close to one another.
From our safety briefing, Chase began talking about the principles and concepts that we would apply in almost every scenario for CQB. "Every angle is either a T, and L, or a 4 way (+). Understanding this will allow you to problem solve your way through a structure as opposed to trying to memorize a solution for each of the countless problems that you'll face." We spent some time in the classroom going through center-fed rooms vs. corner-fed rooms, obstructions, etc. as would be expected.
From this point we went out to the range and proceeded in usual fashion for a Talon Defense class. If you've read previous AAR's here, you'll know that means we started off cold with a "one shot showdown" between us and a partner. From holster, at about 5 yards, we would wait for Chase's signal and then both draw and place one shot in the designated target area. Fastest hit within that area wins... A little way to add a little pressure to the beginning of the class.